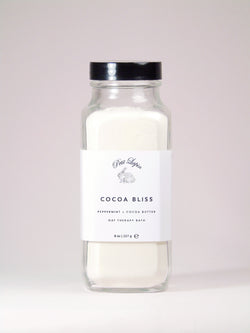 Cocoa Bliss - Oat Therapy Bath
An intoxicating blend of cocoa absolute + peppermint in a skin-nourishing base of cocoa butter + oats. A wonderfully indulgent way to soothe itchy, dry, or irritated skin.
KEY INGREDIENTS:
Cocoa Butter:
A wonderful natural moisturizer great for healing dry, sensitive skin.
Peppermint Essential Oil:
Has a soothing effect on the nervous system and helps to alleviate dry and itchy skin
Colloidal Oats:
Forms an occlusive barrier on skin, keeping it hydrated and supple while calming dry, itchy and irritated skin.
Cocoa Bean Absolute:
Softens and improves elasticity of the skin. Can help create a feeling of well-being, contentment, and clarity
DIRECTIONS:
Sprinkle desired amount into tub, relax and enjoy.
*No anti-clumping agents added, stir if necessary.
Although unlikely, if irritation occurs discontinue use. External use only.
STORAGE:
Keep contents dry. Best used within 12 months 
*Due to all natural ingredients scent and colour may vary slightly.
INGREDIENTS:
Avena Sativa (oat) Kernel Flour, Sodium Bicarbonate, Theobroma Cacao (cocoa) Butter, Mentha Piperita (peppermint) Essential Oil, Theobroma Cacao (cocoa bean) Absolute
8oz | 227g French Square Glass Bottle