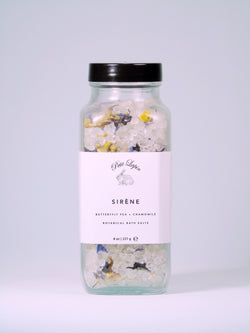 Sirene - Botanical Bath Salt
A mineral-rich blend of salts + botanicals to help flush out toxins, ease tension & rejuvenate your skin.
SCENT: Lavender & Eucalyptus - Soothing & Decongesting
KEY INGREDIENTS:
Dead Sea Salt: 
Abundant in minerals including magnesium, calcium, sulphur, bromide, iodine, zinc, and potassium, these minerals are easily absorbed and known to treat, detoxify, and cleanse our bodies.
Blue Butterfly Pea Flower:
Full of antioxidants such as Proanthocyanidin and Anthocyanin, which increase collagen and elasticity of the skin's cells thus helping to reduce premature wrinkles and other signs of aging.
Eucalyptus Essential Oil: 
Commonly used to treat upper respiratory conditions, it is also a great choice for muscle pain. Its properties make it highly effective at treating minor cuts, insect bites, skin infection, and more.
DIRECTIONS:
Pour desired amount directly into bath water or into your reusable organza bag. Squeeze elixir from organza bag into bath. Relax and enjoy.
Although unlikely, if irritation occurs discontinue use. External use only.
STORAGE:
Keep contents dry. Store in a cool, dry place out of direct sunlight. Best used within 12 months  
*Due to all natural ingredients scent may vary slightly.
INGREDIENTS:
Dead Sea Salt, Clitoria Ternatea (blue butterfly pea) Flowers, Matricaria Chamomilla (chamomile), Centaurea Cyanus (cornflower), Lavandula Angustifolia (lavender) Essential Oil, Eucalyptus Globulus (eucalyptus) Essential Oil
8oz | 227g French Square Glass Bottle