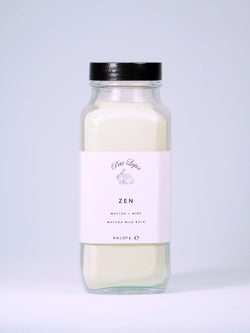 An invigorating blend of spearmint + eucalyptus in a base of antioxidant-rich matcha tea + coconut milk. A wonderful way to detoxify, nourish and soothe skin.
Key Ingredients:
Matcha Tea Powder:
Contains EGCG, a hard to find antioxidant that counters the effects of UV rays, pollutants, radiation, and chemicals. 
Spearmint:
The anti-inflammatory and cooling abilities of spearmint combined with its analgesic effects, make it ideal for soothing aching joints and muscles. 
Eucalyptus:
Great for relieving stress, reducing mental fatigue, and helps to relieve muscle & joint pain. Renowned for its ability to help provide soothing relief from cold and flu symptoms.
DIRECTIONS:
Sprinkle desired amount into tub, relax and enjoy.
*No anti-clumping agents added, stir if necessary.
Although unlikely, if irritation occurs discontinue use. External use only.
STORAGE:
Keep contents dry. Best used within 12 months 
*Due to all natural ingredients scent and colour may vary slightly.
INGREDIENTS:
Dehydrated Coconut Milk, Sodium Bicarbonate, Matcha Tea Powder, Mentha Spicata (spearmint) Essential Oil, Eucalyptus Globulus (eucalyptus) Essential Oil
8oz | 227g French Square Glass Bottle